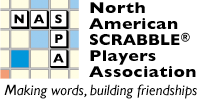 Go to: Early Bird Commentary Games Players Photos Standings Prizes
... tsh Reports ( A B C D CSW Youth )
... Scoreboard ( A B C D CSW Youth )
Back to NSC 2014 Live Coverage
NSC 2014 Commentary: Round 7
[ ]
Go to: Before the Tournament, Round 1, Round 2, Round 3, Round 4, Round 5, Round 6, Round 7, Round 8, Round 9, Round 10, Round 11, Round 12, Round 13, Round 14, Round 15, Round 16, Round 17, Round 18, Round 19, Round 20, Round 21, Round 22, Round 23, Round 24, Round 26, Round 27, Round 28, Round 29, Round 30, Round 31, After the Tournament.
---
Round 7
Jonathan Kent (Unknown city, NY) fills me in on his 4-3 record. It was a W L affair all day. He won his last game with a 505 by trying the outbingo FLECKIER* (blank L). His opponent, Doris Bourbonnais (Unknown city ON), didn't challenge. He got down PAUSERS, FAGOTiNG (which drew a challenge), and ROUNDERS in addition to the phony.
I catch Geoff Thevenot (Austin, TX) play DEFOAMS in his game with Winter Zxqkj (Houston, TX). The clock is paused and a challenge ensues. Turns out that Winter was checking the hook: EGADS. So, Geoff got 96 for the play (it was down the triple) plus 5 for the challenge. On their board I see LYRATeD, eMENDERS, and IcEBERGS.
Patricia John (Trinidad and Tobago) vs. Evan Berofsky (Oxford, MI). The game is not quite in full swing and I see SCoUTED and WAITERED. Nice to see a new face at table 2 in the CSW division. It ended up a 410-382 win for Evan.
The battle of the only remaining undefeateds took place at table 1 in the CSW division. A pretty game: PIEDMONt, OVERHOT, WABSTER, and RECOATS for Adam Logan (Ottawa ON) and LICHGAtE#, RAYLETS#, and OUTEARNS for John OLaughlin (San Francisco, CA). Other fun words: BRAAI# (a verb!), DWINES, and VOXEL# (coming to us soon, via the TWL 2014). It was a win for Adam (one of our Canadian, National, and World SCRABBLE champs in attendance). He admits that he didn't play perfectly, that he should have blocked the line LICHGAtE# came down. Ah well, he still ends today undefeated and in first place.
The Wednesday edition of Canada's National Post ran a piece on the new dictionary entitled "New Words Bring Canadian Flavour to SCRABBLE." It featured a front page, above the fold image of a board with some of the new words that "derived from Canadian linguistic sources." Some are ICEWINE, QAMUTIK, FAVOURITE, and fittingly enough NIAGARA! John Chew is quoted throughout the piece. Check it out if you can find it online!
Cynthia Pughsley (Oakland, CA) flagged me down to make sure I mentioned a great play I might have missed. Her opponent, Caesar Jaramillo (Seagraves, TX), played FOLKIEST for a 185-point triple-triple! Great find and a lot of points, too! He ended up winning their game, 499-413, no doubt helped by this great play.
So, a word on Nigel. Which one, you might ask. Well, first, Nigel Peltier (Portland, OR) was in first place in the top division after round 6's results poured in (not the Nigel you were thinking, eh?). And the other Nigel, Nigel Richards (Malaysia), has not had the best day. He is 3-4. I ask him for a story about today, a quote, anything, and he says, "Nigel is so useless at SCRABBLE, he can only win 3 games!" He wanted me to say other things about how much he was unliked, but it just isn't true. He flew over here with a bike and he's been using it to get around. I'm sure he'll bike in tomorrow with a bologna sandwich under his arm and win all 7. :)
Speaking of bicyclists: we have at least two here! Brett Constantine (Florence, MA) wheeled his bike into the playing room this morning!
Shan Abbasi (Mississauga ON) lets me know that he played QUAALUDE through the D today. I said, "the drug, right?" Nigel of bikedom* asked suspiciously how I knew that. I guess they don't read Valley of the Dolls in New Zealand.
Matthew O'Connor (DeWitt, NY) tells me that his opponent this round, Mark Przybyszewski (Depew, NY), came into their game 3-3 -333 and that two plays from the end of their game, his score was 333! Matthew ended up winning their game and ends today 5-2.
A crowd was gathering around table 2 in division 1. Joel Sherman (Bronx, NY) vs. Nigel Peltier (Portland, OR). I came upon them toward the end of the game. I saw Nigel's OutDOING for 61 and while I watched, he placed down SIGNORE for 76. Joel replied instantly with FLEABITE for 77. Suddenly Nigel's sunglasses got pushed up. He had 7 tiles, Joel had three. Nigel played ENOW to the triple, making EN/OR/WE for 46. The scores were hard to read, but we all could tell it was close. Joel had EMU and Nigel had AII or AIA (sorry, didn't write it down, too excited!). I could see from the result slip that someone had tried MISCUEING* and it had been challenged off. I walked away since they were spending the last 15 minutes or so carefully planning the endgame. It turned out to be Joel's 1-point win, 418-417. He ends today 6-1 in second place and Nigel ends 6-1 in third place (a mere smattering of spread separating them).
This means that the sole undefeated player and first place holder is 14-year-old Mack Meller (Bedford, NY), who defeated Jerry Lerman (Foster City, CA) at the annotated table 1. Check out their game!
Ted Rosen (Rochester, NY) is delighted to have had two 500 games back-to-back this afternoon: 506 and 501. He also got to play CAUTERIZE through the UT for a 9-letter bingo.
Jesse Day (Berkeley, CA) tells me that Michael Early (Fort Worth, TX) played INCuRRENT in their game today. Overhearing this, Gunther Jacobi (Portland, OR) tells me that he got down EFFRONTERY today, enveloping FRONT. It wasn't a high-point getter, but nice find. I was about to head off to other storytellers when Gunther said he had one more for me. Holding AAAABS?, his opponent hung a P out. Can you find Gunther's play?*
Diana Spiller (Ashby, MA)lost her last game and ends today 5-2. Her roommate, Helena Gauthier (Merrimack, NH), is 4-3, but her eyes are twinkling. She got the chance to play TOLARJEV, and, it drew a challenge. Nice!
Dan Horowitz (Wilmington, DE) has been walking around today in a Price is Right T-shirt. He tells me he was just in the audience and didn't get to try out for "a brand new car!" He ends today 5-2.
Division 1 leader, John Robertson, and Andy Saunders (Guelph ON) are the authors of a new book, "A's Bad As it Gets: Connie Mack's Pathetic Atheletes of 1916." You can get it on Amazon and for the Kindle. It came out in April and at one time was number 4 in Canada for sports books!
A Youth SCRABBLE participant comes forward with a fun story! Liam Chew, going into 3rd grade in the fall, won his first game, the last one today (round 6)! He didn't think he was going to win because he and his partner, Kate, had already played and lost to that team earlier today. The best play was MENDED, which hooked to make two two-letter parallel words. Their event has six games to go tomorrow.
Bradley Robbins (Windham, NH) stops by to tell me the improved news. He was once 3-1, but ends today 4-3, which is much better!
Division 2's Kevin Bowerman (Chapel Hill, NC) ends today the sole undefeated player.
Division 3, more egalitarian, has 10 players with 6-1 records, led by Sander Post (Ottawa ON).
Division 4 has 5 players who are 6-1, led by Zachary Ansell (Los Angeles, CA).
* Gunther played BAASkAAP to the P!!!! WOW!