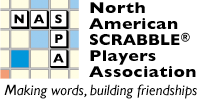 Go to: Early Bird Commentary Games Players Photos Standings Prizes
... tsh Reports ( A B C D CSW Youth )
... Scoreboard ( A B C D CSW Youth )
Back to NSC 2014 Live Coverage
NSC 2014 Commentary: Round 5
[ ]
Go to: Before the Tournament, Round 1, Round 2, Round 3, Round 4, Round 5, Round 6, Round 7, Round 8, Round 9, Round 10, Round 11, Round 12, Round 13, Round 14, Round 15, Round 16, Round 17, Round 18, Round 19, Round 20, Round 21, Round 22, Round 23, Round 24, Round 26, Round 27, Round 28, Round 29, Round 30, Round 31, After the Tournament.
---
Round 5
Lunch was a nice break from the games, games, games! Kate found a Puerto Rican place (Niagara Cafe) and she got to walk about a mile there and back so exercise, too. Lunch included two preparations of plantains: MADUROS and TOSTONES* (which anagrams to TESTOONS). Most of the staff took in lunch in the convention center's lower level. When she came back, she helped set up my iPad to better distinguish between Collins/TWL/phonies. Let's hope this helps!
Before this round's games began, Alan Stern (Shadow Hills, CA) spoke about a couple of players we lost since the last NSC: Lester Schonbrun and Stu Goldman. Now I'm sad.
Chris Cree (Dallas, TX) handed out a few awards. First, the best strategic play award from last year's NSC went to Rahn McKeown (Cary, NC). And, two players who reached 5,000 games: Winter Zxqkj (Houston, TX) and David Engelhardt (Baltimore, MD). More awards will come later on as the NSC unfolds.
I took a walk by the Youth SCRABBLE tables in the back. Two of John Chew's sons are playing: Jamie and Liam, but on different teams. The kids are in the main room with us but on an abbreviated schedule. They were pretty early into the rounds so no great words had been played yet, but I did notice that Liam Chew stands as he plays so that he can see the board (from a seated position he can't quite take it all in).
Marcela Kadanka (Toronto ON) is playing Laura Wolfson (Scarsdale, NY) this round. LINGOES and MURALINg are Laura's bingos and Marcela has played SERIATE and QUACKER (a nonbingo, but fun word!).
RUNnIER and INSUREDS jump off an in-progress game between Risa Horowitz (Regina SK) and Sander Post (Ottawa ON).
FIGuRES and BEEPING on a Randy Morrison (Richmond, VA) vs. John Green (Lealman, FL) board.
So, table 1 is different this round. First off, Nigel Richards (Malaysia) isn't there. It features Joel Sherman (Bronx, NY) vs. Mack Meller (Bedford, NY). Joel is wearing his "I have beaten Nigel Richards" shirt and Mack is in his 2013 NSC in Las VegasT-shirt. I see BARITONES, hEPTAGON, and COWERING on their board. The game is nearly over. Check it out in the annotated game section! Spoiler alert: Mack handed him his first defeat and remains undefeated so far!
On a Nigel Richards (Malaysia) vs. Max Panitch (Toronto ON) board: BANDORE, FOUNDERS, ENROOTS, DRAFTEEs, DINGO,and URAEI are on the board. Nigel, perhaps tired of the paparazzi, is wearing shades indoors.
Big smile from Gabriel Gauthier-Shalom (Montreal QC) despite losing badly to Joe Edley (Port Jefferson, NY) this round by more than 200. Gabriel's opening rack was IRRRNTI and then he drew two more Is on his next rack. So, that about said it all. Joe played four bingos in a row: POACHES, FATHOMER, ABUSIVE, and LUXATING. Two turns later he played OUTBOXES. Good going Joe!
Gabriel had a game earlier today against Michael Baker (Portland, OR) where he got down three bingos: CRANKILY, SECATEUR, and HEATABLE. Sometimes you are the pigeon and sometimes you are the statue.
Intense looking game between Jerry Lerman (Foster City, CA) and Darrell Day (Richardson, TX). I see DECOROUS, ENFACes, and MONOXIDE on the board. Jerry won, 494-340.
Eric Tran (Calgary AB) vs. Matthew O'Connor (DeWitt, NY). Four pretty bingos: TRAIPSED and HOUSERS for Eric and LUTEOLIN (blank second L) and DInETTE for Matthew. Matthew's win, 412-397.
Eric Harshbarger (Auburn, AL) is 4-1 and floating on a cloud of contentment. If only we would stop now, right? He'd have 7th place sewn up and be in the money! He played Maine's number 1 player, Joey Mallick (Cape Elizabeth, ME), and won, 530-455. Joey played the lovely eXuviATE for 113 and TARRIED. Eric played ASSUMER as a 93-point double-double, CHAIRING, MASONED, and OLEINES.
Undefeated Chris Lipe (Rome, NY) squared off with undefeated Adam Logan (Ottawa ON) this round. When the smoke cleared, it was Adam's win, 403-365. I se Chris' DIGESTED and Adam's PLECTRA, RISALDAR#, and FREQUENT. Fun Collins words: HEARIE#, VEHM#, PONZU#, AGLU#, DIV#, and WOF#.
At the next table, John OLaughlin (San Francisco, CA) defeated Evan Berofsky (Oxford, MI), 485-385. I was kind to point out the mere 100-point difference. I see SIeNNAS, TOWIEST#, IRENICaL, ad SMYTRIE#. Evan explained that whenever he sees that word he thinks of Jackson Smylie (Toronto ON).
Marc Carnegie (New York, NY) vs. Rob Robinsky (Saint Louis Park, MN). Despite a 140-point triple-triple of BLASTERS, BRANNeD, and ARMORIES, Mark lost this game to Rob, 495-529. I see Rob's ANTIGENE, SYNURAE, DILUTEE#, and JETFOIL (nonbingo for 51).
Roger Cullman (Toronto ON) tells me that in this round he played Wes Eddings (Quincy, MA). Though it could not go down, Wes' last rack was YOHIMBE! Fun!
Kate says: Jesse Matthews (Kelowna BC) and Geoff Thevenot (Austin, TX) had a shootout with high scoring bingos. Geoff got ELEGIASt for 122 and SHREWDIE for 112 consecutively. Jesse had WRISTED for 101, AlIQUOTS through the Q for 88, and VIADUCT (hooking OW to make OWT#) for 90. A high scoring ZA/ZO# sealed it for Geoff, 490-476.
I see DRUGLIKE* on a board, which is the phony I use to remember the real word, KLUDGIER. I also see UNMERGE? 3x3. There is no letter that can go there to make a real word, so whether it's UNMERGES* or UNMERGED*, it isn't good.
I see REDROO? on a Collins board and verified that only REDROOT is good (I think REDROOF* seems perfectly plausible).
I collected high-point bingos this round, too: JETFOIL, SQUIRREL, ANOReXIC, JUNKERS, ZEBRINE, AZOTISED, DEXTRINs or maybe it's DEXTRINe).