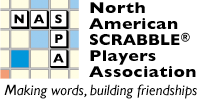 Go to: Early Bird Commentary Games Players Photos Standings Prizes
... tsh Reports ( A B C D CSW Youth )
... Scoreboard ( A B C D CSW Youth )
Back to NSC 2014 Live Coverage
NSC 2014 Commentary: Round 26
[ ]
Go to: Before the Tournament, Round 1, Round 2, Round 3, Round 4, Round 5, Round 6, Round 7, Round 8, Round 9, Round 10, Round 11, Round 12, Round 13, Round 14, Round 15, Round 16, Round 17, Round 18, Round 19, Round 20, Round 21, Round 22, Round 23, Round 24, Round 26, Round 27, Round 28, Round 29, Round 30, Round 31, After the Tournament.
---
Round 26
Alan Stern (Shadow Hills, CA) announced many superlative awards before the games began this round. Linda Wancel (Flushing, NY), Greg Feldkamp (Cleveland Heights, OH), Winter Zxqkj (Houston, TX), and Adam Logan (Ottawa ON). Prizes went to folks not here, too!
Nigel Richards (Malaysia) decided to join in the sunglass fun and he wore his while playing Nigel Peltier (Portland, OR) this round. Nigel won. I mean Nigel Richards won. I missed the board entirely.
Randi Goldberg (Phoenixville, PA) had a fun play this round. Opponent, Samantha Orleans (Bryn Mawr, PA) played QUART and Randi got down COZY/QUARTZ! Randi won the game, 441-381.
Kevin Belinkoff (Burbank, CA) vs Mohd Khairi Zulkalnain (Ames, IA). I see Mohd's ENDITING, OLDSTER, and STARRED. Kevin played GrISTLED. As I walk by, Mohn tries DEBTING* to the triple, extending from DEBT. Kevin holds and then challenges the play. Off it came. But it wasn't enough to turn the game. Mohd's win, 371-323.
Greg Feldkamp (Cleveland Heights, OH) and Bill Ewing (Missoula, MT) played at table in division 3. They report that the game was close, each getting down a bingo: REINSERT for Greg and TOLUENE for Bill. A 361-327 win for Greg. He is now at 19 wins.
Meanwhile, at table 1 in division 4, table resident Doug Critchlow (Columbus, OH), got down ALIENORs and EtESIAN. Randy Morrison (Richmond, VA) played INSANER. Gary's win, 367-354.
Lisa Odom (St Louis Park, MN), so lovely in a light purple sundress today, played Joel Sherman (Bronx, NY) at table 2 in division 1. Words I saw: ACOCK, ANTiDRAG, MOVIOLAS, GLOBATeD, and THIRLAGES. Lisa's win, 432-392.
The sage, Jim Kramer (Roseville, MN), defeated Jesse Day (Berkeley, CA) this round, 455-417. I see Jim's UNYOKeD, RUbAIYAT, and HOISTING. Jesse played CENTARES and ALLSPICE!
I hear Joe Edley (Port Jefferson, NY) and Noah Walton (Portland, OR) discussing their game and Joe says, "If I'd only had a consonant." I take it this game went to Noah. I see Joe's MURICaTE and Noah's FOReRAN, KEELING, and ARIETTA. Noah did win, 440-328.
I was all ready to tease Rahn McKeown (Cary, NC) about his win this round, asking him to tell me how many Ws he had in a row. He said, "one." I looked at his sheet. Oops. He's snuck a loss in there? After winning 15 in a row, he tied with Tasha Asberry (Unknown city, IL) and then lost to Yukiko Loritz (Anaheim, CA). So, this win against Sid Lashley (Mississauga ON), 558-339, really was one in a row. Sid played LATENER and REFACED. Rahn played DENOTES, CLOVERS (his end rack was LOVERS and he hung a C out!), TUTORING, and the triple-triple sEATRAIN. Stefan Fatsis (Washington, DC) walked by and said, "Oh, I triple-tripled with the anagram of that this round!" Sure enough, he played RATANIES!
A fourth loss for Adam Logan (Ottawa ON) this round and he even tried a phony! He played OVErGONE#, ISARITHM, and tried CRANTZ* (this is the only way this word isn't spelled!). His opponent, Rob Robinsky (Saint Louis Park, MN), played AEONIAn, CITATION, and LINKROTS#. Rob's win.
From a distance, I spy on Joel Wapnick (Montreal QC) and Stefan Rau (Hudson, NY). I see ERUcTIVE, STILLER, POYNTS#, AVGAS, HAFIZ. VEENA, HUIA# and NIQAB#.
Evans Clinchy (Boston, MA) vs. John OLaughlin (San Francisco, CA): rETINUE, CARLINE, LObELLA, ZOYSIA, RAZEE, JEAT#, and AOUDAD.