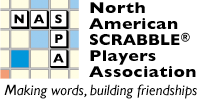 Go to: Early Bird Commentary Games Players Photos Standings Prizes
... tsh Reports ( A B C D CSW Youth )
... Scoreboard ( A B C D CSW Youth )
Back to NSC 2014 Live Coverage
NSC 2014 Commentary: Round 3
[ ]
Go to: Before the Tournament, Round 1, Round 2, Round 3, Round 4, Round 5, Round 6, Round 7, Round 8, Round 9, Round 10, Round 11, Round 12, Round 13, Round 14, Round 15, Round 16, Round 17, Round 18, Round 19, Round 20, Round 21, Round 22, Round 23, Round 24, Round 26, Round 27, Round 28, Round 29, Round 30, Round 31, After the Tournament.
---
Round 3
Joe Roberdeau (Cincinnati, OH) vs. John A Fox (Batavia, NY). I see TEMPLEs, LOANERS, and COATINGS.
Joyce Stock (Rocky River, OH) vs Deborah Gaudier (Kerrville, TX). GrATINED* jumps out by Deborah. The rest are all Joyce: UNLEVIED, PERISHES, and TROOpER.
Jim Fonti (Port Jefferson Station, NY) had dreams of beg the comeback kid and he may yet be that, but he's lost two in a row, this one to Shelley Kirk (Wyoming, OH). She got down BLEEDERS and stormer, ending up with a 448-299 win.
Chloe Fatsis (Washington, DC) squared off against Gavin Thompson (Ottawa ON) this round. I see her ENTRAINS for 70 and POUTErS for 78. He has played no bingos, but has made high-scoring short words (those high point tiles add up!). The score is tight and I want to watch, but she has 16 minutes on her clock and he is down to 4. He is bent in half over the board, concentrating very hard, so I head off to let it flow. It ends up being her win, 375-370. She is 2-1 now!
Roderick McDonald (Long Sault ON) vs. Mike Bell (Manistee, MI). Despite other games nearing their end, this game is still early on. I only see RiSKING on it.
Steven Gonzales (Boston, MA) vs. Michael Gincel (Lakewood, NJ). VIOLAtES and SPIRALED are down. While I watch, Michael finds a sweet spot and plays AX/AX/AL for 54.
Seth Lipkin (Hopkinton, MA) vs. Conrad Bassett-Bouchard (Piedmont, CA). This is a fun game and ECDYSIAL jumps off their board. I also see STRATuM, HANIWA, KOUROI, and VEsSELS. At one point, holding AEOOUGR, Conrad played AERUGO/HO to clean up his rack. I mention this to Kolton Koehler (Portland, OR) and he says, it is good without the A, so ERUGO is good. Both players have covered or unreadable scoresheets, so I could glean little, but that Seth eventually won.
Speaking of Kolton Koehler (Portland, OR), he just defeated Nigel Richards (Malaysia) at annotated board 1, kicking Nigel down to table 129 (or lower, joked Nigel). Check out the annotated game, but spoiler alert, Nigel got stuck with the Q.
I watch a Will Anderson (Croton, NY) vs. Ben Schoenbrun (Ardsley, NY) game in progress. VASTiER, INBOARD, ALIYAH, POINTES, CIBOL, and AWAITERS are on the board. After it finishes, Will tells me that he won. He saw his first blank this morning that game, so he is 1-5 so far and has a 2-1 record.
Joe Edley (Port Jefferson, NY) has had a good morning, winning all three so far. In this round his opponent opened with CONGEAL and then a few turns later played SCATTING to the G. Finally, Joe had a rack he could work with and he played COARSEST through an S. I warn him that he is bound to play at table 1 before too long!
Jackson Smylie (Toronto ON) vs. Noah Walton (Portland, OR). I see DICTATE, LIONISER, SEQuIN to the triple for many points.
Pretty board between Mike Baron (Corrales, NM) and Tom Bond (Everett, WA). FIRETRAP jumps out with GROUNDED, TUCKING, SENNETs, and BRUITED.
Shan Abbasi (Mississauga ON) had a giant game against Nicky Huitson (United Kingdom) this round. His first four plays were bingos: ANTIROLL, AURIFIER*, REEKING, and SEEPING (for 100). Later on he played OUTCHEAT through the A on the triple line and HONEYCOMB from her play of HON. She managed TELEcAST and is in good spirits despite the loss.
Battle of the Lisa/Leesas! Lisa Odom (St Louis Park, MN) falls to Leesa Berahovich (Berkeley, CA). I see BEHEADS, GALOsheS, TEENIER, CAROLING, KNARRiNG* (they both blush over that one), OBELIAS (blank L), and URTEXTS are on the board.
Kate says: Walking by Chris Tallman (Vancouver BC), I glance over and see WRASTLED, which I think is a cool word. But then I look closer, and see the actual play is WRASLTED*. My guess is it was played quickly and not looked at closely, so it stayed on the board, looking quite weird.
Brenda Casey (Guilford, CT) vs Gary Skowronski (Silver Spring, MD) have eight plays on the board and four of them are bingos: LATINOS, INHERENT, RAVIGOTE, TORULAE.
In Cynthia Pughsley (Oakland, CA) vs Vivian Minden (Dundas ON) the first nine plays are WROTE, UNBRAID, BOOGER, TRINDLE, HA, OH, GOATEeS, JAY and KNAVE. All reasonably normal words, but interesting in that they were all played vertically.
Zev Kaufman (Toronto ON) vs Samuel Moch (Brooklyn, NY), I see PARTIZAN, PErCENTS, EuLOGIAS, TOASTIER and HARDIES, and the game is only about half over.
Orlet Bullock (Barbados) has a big game against Mark Kenas (Madison, WI), including three in a row with ASSHOLE, TENURIAL and FrONDOSE, plus MOLTERS later on. Mark's ADVENTURe isn't quite enough, even with the addition of a bunch of 50-point power tile plays.
I see NINEFOLD on Jason Keller (Highland Park, NJ) vs Matthew Tunnicliffe (Ottawa ON). I was just looking at the FOLD words in the car ride up. All of ONE through TEN can go in front of FOLD, but only THREE and FOUR go in front of SCORE in TWL. CSW adds SIXSCORE, EIGHTSCORE and NINESCORE. THREESCORE can be made from the letters in ROCHESTER, a highway sign we saw on the way to Buffalo. There are two ten letter words made out of the letters in BUFFALO, which are SHUFFLEBOARD and UNAFFORDABLE. BUFFALOFISH and BUFFALOBERRY are also acceptable, but they are extensions, and thus less interesting than words that require anagramming to find.