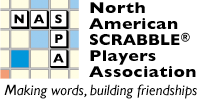 Go to: Early Bird Commentary Games Players Photos Standings Prizes
... tsh Reports ( A B C D CSW Youth )
... Scoreboard ( A B C D CSW Youth )
Back to NSC 2014 Live Coverage
NSC 2014 Commentary: Round 4
[ ]
Go to: Before the Tournament, Round 1, Round 2, Round 3, Round 4, Round 5, Round 6, Round 7, Round 8, Round 9, Round 10, Round 11, Round 12, Round 13, Round 14, Round 15, Round 16, Round 17, Round 18, Round 19, Round 20, Round 21, Round 22, Round 23, Round 24, Round 26, Round 27, Round 28, Round 29, Round 30, Round 31, After the Tournament.
---
Round 4
Bryan Pepper laughs and asks Patty Hocker to get a shot of Nigel Richards (Malaysia) at table 21. He wonders if Nigel has ever sat down that far before. Patty assures him that she already has that shot, taken from afar, so as not to be too invasive.
Dan Stock knows nothing about what is going on in his division. I ask him why and he says, "It is soooo big!" He has around 166 players (or 168, he thinks) and it will take him a few more rounds to figure out the flow.
Table 1 in the Collins division featured Mpakaboari Jack (Nigeria) vs. Chris Lipe (Rome, NY). A hard-fought game. I see M's TWEAKeR and SOLATIoN. Chris played UNENDING, TRINDLED, and RIBEYES. A one point win for Chris, 438-437. He is now 4-0!
Morris Greenberg (Brookline, MA) is 2-2 and having fun. He is anxious to go to lunch and says he remembers nothing great about his games.
Nuala O'Rourke (Northern Ireland) vs. Puneet Sharma (Cambridge, MA): TROOLIES# and BEGROAN are on their in-progress board.
Jeremy Hildebrand (Ottawa ON) faced Dave Wiegand (Portland, OR) this round. I watch Dave play SATANIc and see WAISTED and FLEECIER. Dave's win, 481-363.
Mark Kenas (Madison, WI) vs. Robert Linn (Potomac, MD): OUTSEEN, STINTER, and PAVAGES#.
VESTIGe, ORATiNG, and PREANAL are on the Ed Liebfried (Swanzey, NH) vs. Gunther Jacobi (Portland, OR). With a name like that, Gunther ought to be a soap opera star!
Heather McCall (Toronto ON) vs. Zachary Dang (Chevy Chase, MD): SLOTTING, TRAVELING, HERDERS, EPIGONE, and ADYTA are on their board.
From board 21, Nigel Richards (Malaysia) defeated Chris Tallman (Vancouver BC), 419-360. I see POACHIER, LOGGATs, ENDITEs, WITNESS, and NEUTRAL are some of their bingos. After the game, Chris admits he tried REWITNESS* which reached the triple, but Nigel called it off. It contributed to the game loss.
Kate says: Phoneys and CSW-only words are entertaining me this round. David Koenig (Falls Church, VA) plays AUXILIn* against Jason Broersma (Caledon ON),who challenges it off. David Whitley (Monrovia, CA) and Shauna Petrie (Mississauga ON) have ALERIONS# (a good word to play against a new CSW player, since it looks like AILERONS spelled wrong), but also APHOTICS*.
Stefan Rau (Hudson, NY) vs Adam Logan (Ottawa ON) have the odd looking VAR?UENO# - I had to look up the rack to learn that the blank was a G (vargueno: a decorative writing cabinet). Similarly, Geoff Thevenot (Austin, TX) and Orlet Bullock (Barbados) have ?HEVINS#, and there, it's a C (chevin: the chub of Europe. I don't even know what the definition means).
Matthew Bernardina (Durham, NC) has his first 600+ tournament game, winning against Andy Saunders (Guelph ON) with TRAINERS triple-triple, GLOBATED, SENTENCE, and jOYRODE. 642-299.