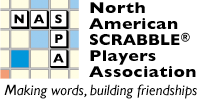 Go to: Early Bird Commentary Games Players Photos Standings Prizes
... tsh Reports ( A B C D CSW Youth )
... Scoreboard ( A B C D CSW Youth )
Back to NSC 2014 Live Coverage
NSC 2014 Commentary: Round 16
[ ]
Go to: Before the Tournament, Round 1, Round 2, Round 3, Round 4, Round 5, Round 6, Round 7, Round 8, Round 9, Round 10, Round 11, Round 12, Round 13, Round 14, Round 15, Round 16, Round 17, Round 18, Round 19, Round 20, Round 21, Round 22, Round 23, Round 24, Round 26, Round 27, Round 28, Round 29, Round 30, Round 31, After the Tournament.
---
Round 16
Ding dong! Adam Logan (Ottawa ON) has finally lost a game! And to Becky Dyer (Austin, TX)! Congrats to Becky for felling the giant! She must feel great! I see Adam's SEINING and Becky's GLADIATE, FLOUREd, and DWARFIsH.
In his opening remarks today, Alan Stern (Shadow Hills, CA) spoke about introducing the concept of "walk-off bingos." Don Drumm (Clinton, NY) thinks he had the first one today. Don had played CUTTERS early on and later tried WELLERS*/SCUTTERS and the play was ruled unacceptable. Much later, in the end game, he wondered about which of those two words was wrong and tried MENTORS/SCUTTERS and on it stayed and out he played with a walk off bingo! It was just enough to defeat Bruce Cramer (Grand Island, NY).
Trevor Sealy (Oshawa ON) has experienced a slow ramping up to this year's NSC (we dance about the harsh realities when we can, right?) and so he was super excited to finally have a game he WANTS to talk about! He played Vicki Kahn (New York City, NY) this round and got down WISTING (which drew a challenge), BRAWLING (blank L), FUNNEST on triple, front hooking to make SCREED, sUASION for a 72-point outplay. He caught her with QUERNO and won, 604-301. Vicki did manage to play REBURIES.
On a Rob Robinsky (Saint Louis Park, MN) vs. John OLaughlin (San Francisco, CA) board: ADMIRERS, NATILI, DISSEAT, RESTOKeD, CONELRAD, and TUTORIAL. Game in progress, I move on.
The battle of the Dave Ws. Taking notes was a nightmare. Use D for one, no. Use DW for one, no... argh. Anyway the word on that board is ANTHELIXES! It went down at ANTHELIX on the triple by Dave Wiegand (Portland, OR) and then had the ES added later, also to the triple, thank you, the two-letter contribution belonging to David Whitley (Monrovia, CA). He also played WeTWARE and SEtTINGS. Dave Wiegand played ETAERIO# and SNARIER. The man from Oregon won this one, 457-419.
Conrad Bassett-Bouchard (Piedmont, CA) vs. Mack Meller (Bedford, NY). Lots of pretty words: BRACIOLA, STaIRWAY, DEMOUNTS, GaPPIEST, HARICOT, and as I take a breath in, Mack bingos out with ANALYTE catching Conrad with AURMS. Despite this, Conrad won, 447-369.
Kolton Koehler (Portland, OR) vs. Will Anderson (Croton, NY): LACELIKE, ENDLESS, ANOINTED, oNSTAGE, DIARIST, and VIbRATOR are on the board.
Matt Graham (New York, NY) moves to the top tables (and Patty Hocker and I shared excitement at seeing him at the up there again, it has been awhile!) and played Thomas Reinke (Middleton, WI) at table 4 in division 1. I see Matt's AdRENALS, GROUTER, and tAILORS (which hooked to make JAUKS/AIt/YEA from both the top and bottom of the word-it was nestled so perfectly and beautifully and he did it right in front of me!). Thomas got down THENAGES. The game was still in progress but I later learn that Matt won, 511-391.
Cesar Del Solar (Albany, CA) brings me over to see his game with Jon Shreve (Denver, CO). The word that arrests anyone walking by is rEDSHIFTED! It went down by Cesar as rEDSHIFT for a triple bingo, 72, and then rEDSHIFTED for 51. Others were asking about it and I heard him say, "it is a science word." I see his OEsTRIN for 76 and CHAINES for 70. John got down MEDITATE for 62, but it was Cesar's win, 500-341.