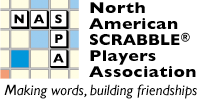 Go to: Early Bird Commentary Games Players Photos Standings Prizes
... tsh Reports ( A B C D CSW Youth )
... Scoreboard ( A B C D CSW Youth )
Back to NSC 2014 Live Coverage
NSC 2014 Commentary: Round 23
[ ]
Go to: Before the Tournament, Round 1, Round 2, Round 3, Round 4, Round 5, Round 6, Round 7, Round 8, Round 9, Round 10, Round 11, Round 12, Round 13, Round 14, Round 15, Round 16, Round 17, Round 18, Round 19, Round 20, Round 21, Round 22, Round 23, Round 24, Round 26, Round 27, Round 28, Round 29, Round 30, Round 31, After the Tournament.
---
Round 23
We had some NSC superstars flexing muscle this round at top tables. In Collins, Adam Logan (Ottawa ON) played Joel Wapnick (Montreal QC) this round again and Adam took the win, 425-373. In division 1, at the annotated table 1, Joel Sherman (Bronx, NY) played Joe Edley (Port Jefferson, NY) and I hear that Joel won that matchup. The crowd around that table was large, people hanging off the rope line. Even a three-person camera crew got in on the action!
Megan McMahon (Worcester, MA) had a "walk-off bingo" this round very Zachary Ansell (Los Angeles, CA): GROWLING for 98.
Matt Canik (Austin, TX) tells me I might want to check out Scott Appel (Elkins Park, PA) vs. Nigel Richards (Malaysia). I go to the furthest corner of the room to find Nigel up by four bingos: INTERLAP, TRILOBAL, WITHERER, CARNIES, and CASHMERe on the triple through the H. Scott got down SADIrON (which taken phonetically only was a fitting word). Nigel won, 683-325. Scott confesses to losing 4 challenges in the game. He said that he didn't mind losing by so much or losing at all, for that matter, what was hard was the confused word knowledge that led to the challenges. I can get that.
Terry Kang Rau (Hudson, NY) is on the wrong end of a great game again this round. Orry Swift (Houston, TX) played DOVETAIL, PARRIDGE through the I (Terry said, "Who plays a natural PARRIDGE?"), and AROUSER. I see Terry's TAWNIEST and LATHERs. Two more pretty plays: SYKE on the triple, hooking to make PARRIDGES and Terry extending GLITZ to GLITZING on the triple. Orry's win, 583-439.
Richard Spence (Tucson, AZ) vs. Eric Tran (Calgary AB): RUNELIKE, IOdISMS, CRAvATS, and REVULSED through the S are Eric's. Richard got down ETHICIZE which he stands by as the best decision. Yet, it was costly, because Eric played DOXY to the triple, hooking to make ETHICIZED. Eric's big win, 533-337.
Good friends and frequent sparring partners, Leesa Berahovich (Berkeley, CA) and Jesse Day (Berkeley, CA), met at division 1's table 3. The game done, they were well into discussing the "what ifs" so I circled around the table taking notes. Lessa played VIOLATED, VANNERS, and PRoWeSS. She also got down the fun DODGEM (nice word knowledge!). Jesse played THINKER, INVITAL, and APERIENT. His win, 472-427.
Stefan Fatsis (Washington, DC) happens by and casually tosses over his shoulder, "I played LAICIZED to the ZED on a triple." His 9-letter word knowledge and execution is on the rise!
Quiet, sweet Noah Walton (Portland, OR) and Mack Meller (Bedford, NY) sit at table 4 looking over their completed game. FEWTRILS catches my eye (Noah's) and they both say almost in unison, "FEWTRIL* is not good." So, I learn that it needs the S. Noah also played DERBIES, REYNARD, and APOSTATe. Mack played cARGOES. It was Noah's win, 496-385.
Nigel Peltier (Portland, OR) vs. Conrad Bassett-Bouchard (Piedmont, CA). Two bingos each! LENSING and SEAFRONT for Nigel and DISPORTS and RIVALeD for Conrad. Conrad's win, 415-386.