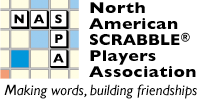 Go to: Early Bird Commentary Games Players Photos Standings Prizes
... tsh Reports ( A B C D CSW Youth )
... Scoreboard ( A B C D CSW Youth )
Back to NSC 2014 Live Coverage
NSC 2014 Commentary: Round 31
[ ]
Go to: Before the Tournament, Round 1, Round 2, Round 3, Round 4, Round 5, Round 6, Round 7, Round 8, Round 9, Round 10, Round 11, Round 12, Round 13, Round 14, Round 15, Round 16, Round 17, Round 18, Round 19, Round 20, Round 21, Round 22, Round 23, Round 24, Round 26, Round 27, Round 28, Round 29, Round 30, Round 31, After the Tournament.
---
Round 31
The crowd around table 1 is growing my the minute as the championship game unfolds between Jason Li (Dollard-Des-Ormeaux QC) and Conrad Bassett-Bouchard (Piedmont, CA). Video and still cameras, players, onlookers. etc. Peter Sokolowski from Merriam-Webster joined the annotation team, sitting beside Lisa, and he tweeted the plays as they were made. Rahn McKeown (Cary, NC) walks up and tells me that Jason just missed gRAMARYE. He admits he stepped away and simmed it, that it was a hard find.
Table 1 in division 2 is Kevin Bowerman (Chapel Hill, NC) taking on Jeff Cook (Keyser, WV). Game in progress, I see TARDIEs, unvented, and INTONED on the board. Jeff' win, 450-341.
"He destroyed me," said Stefan Rau (Hudson, NY) of his game with Joel Wapnick (Montreal QC). Stefan got down DARRAINE# and the rest was all Joel. Fittingly, he opened with RECITAL (piano players know all about that), then TODDIES on turn 2. Other Joel plays: NECKLINE (blank L), OStIARY, and RiLiEST.
Dave Wiegand (Portland, OR) had a big win against Rob Robinsky (Saint Louis Park, MN), 514-427. I see Rob's DaRTLeD, and late tries of TERATISM and DAUNTERS, but they weren't enough to overcome CANNELON, VAUNTIE, and BEAKIEST for Dave.
A smoking hot Chloe Fatsis (Washington, DC) vs. Roderick McDonald (Long Sault ON) game at board 2 in division 4. She played HOTLINE, he replied with SHOWERS. Two turns later, she played SCORNERS and he replied with TURTLED. She later got down NOTARIES. Her win, 487-446. Nice way to end the event and to come in second place!
Charles Dupont (Seattle, WA) wins division 4 with his game against Doug Critchlow (Columbus, OH) this round. I see OUTDAREs by Charles and ELEGIAC by Gary. As I write this down, folks contemplate whether it takes an S, it does. Just so that no one thinks this was a cakewalk, winning his division required Charles to win 12 games in a row! Wow!
Jim Kramer (Roseville, MN) defeats Joey Mallick (Cape Elizabeth, ME) in the last round. I see Joey's NICOIsE and Jim's WISTARIA, REEARNED, and ERODIbLE.
I gathered with the folks around table 1 to watch the last couple of plays in the Jason Li (Dollard-Des-Ormeaux QC) vs. Conrad Bassett-Bouchard (Piedmont, CA) game. Conrad was amazingly composed and calm. Jason stuck his hand out and congratulated Conrad on the win. Then John Roberts walked in and asked them to fill out the official result slip. Once that was done, the floodgates opened and everyone rushed in. Conrad spent the next half hour in interviews!
Karen Richards (Australia) ends her first experience at an NCS with a 5-bingo game or so she tells me to lure me to her board. When we got there and she pulled her skip out she said, "Oops, oh no, only four and 63-point play." I laughed, "only four!" Anyway, she played LOAmIER, CALX for 63, NoDALISE#, BAREGINE#, and LENTOUS#. Her opponent, Jason Broersma (Caledon ON), played OUTWORN and the lovely HRyVNiAS. A 599-388 win for Karen. She won all three games today and leaves on a cloud. I am so excited we had players from Australia join us this year: Carmel Dodd (Australia), Caroline Polak Scowcroft (Australia), Paul Richards (Australia), and Karen! Please come again next year: bring your friends!
Sandy Nang (Malibu, CA) beat up on Nicky Huitson (United Kingdom) this round. I see Nicky's GUINeAS and Sandy's PROTONIC. When I start to write down Sandy's other bingo, she says, "Oh, it is really much worse than that." She explains that in the endgame, she had BS on her rack (when doesn't she, right?) and she pulled to replace, however, she only took 4 tiles, to make a 6-tile rack. Nicky played and emptied the bag so that she had a full rack. Sandy then discovered her mistake and the rulebook stated that Nicky (the harmed party) got to look at all the tiles on her own rack and choose which one to give to Sandy (supposedly a penalty in that the harmed party could give an unplayable Q). Anyway, Nicky chose an O from her rack to give to Sandy. Sandy then bingoed out with BIOTITES, sticking Sandy with those six tiles and winning, 476-332. I hope Nicky returns to another of our NSCs after that! :)