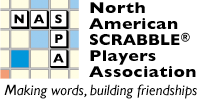 Go to: Early Bird Commentary Games Players Photos Standings Prizes
... tsh Reports ( A B C D CSW Youth )
... Scoreboard ( A B C D CSW Youth )
Back to NSC 2014 Live Coverage
NSC 2014 Commentary: Round 19
[ ]
Go to: Before the Tournament, Round 1, Round 2, Round 3, Round 4, Round 5, Round 6, Round 7, Round 8, Round 9, Round 10, Round 11, Round 12, Round 13, Round 14, Round 15, Round 16, Round 17, Round 18, Round 19, Round 20, Round 21, Round 22, Round 23, Round 24, Round 26, Round 27, Round 28, Round 29, Round 30, Round 31, After the Tournament.
---
Round 19
Jesse Day (Berkeley, CA) led a group of jesters, at least one was Herb Lewis (Cherry Hill, NJ), to juggle right before the round started. They had many balls in the air. At one point, Jesse was juggling five balls at once!
Jeff Fiszbein (South Lyon, MI) asks Patty Hocker to make sure she photographs him during this round. Jeff has won 8 games in a row and his reward for this is the chance to play Nigel Richards (Malaysia) this round. He said a photo would make his girlfriend back home so happy. Patty promised to get a shot!
After Alan Stern (Shadow Hills, CA) made his opening comments, Matt Graham (New York, NY) took to the microphone to invite the players to his one-man show this evening in Buffalo (I saw it in Boston, it was great!). He must have played some basketball at lunch because he was wearing an all red athletic outfit (shirt, shorts, shoes).
I catch Jerry Lerman (Foster City, CA) vs. Kolton Koehler (Portland, OR) early on. Jerry opened with WALLY and Kolton responded with SQUALOR for 64 (double-double). Later, I stop by at game end and see ERODENT, DOSSIER, and aUTOTYpY (John Chew had to help me with those blanks!). It was a Kolton win.
It takes TEAMWORK and how you get there is have Leesa Berahovich (Berkeley, CA) open with WORK and have Joe Edley (Port Jefferson, NY) reply with the front hook of TEAM for 60! I return at game's end to see NEGROIDS, CYGNETS, and GLOBULATE* (Joe called it a throwaway play and she didn't challenge). But my favorite word was cASTAwAY by Joe! A 560-374 win for Joe.
Mack Meller (Bedford, NY) and Joel Sherman (Bronx, NY) squared off at table 1 again and it was Joel's turn to win this time. Check out the annotated game!
Mark Kenas (Madison, WI) played Adam Logan (Ottawa ON) at table 1 in Collins. Despite bingoing out with GERMIEST for 60 and getting down BIOTYPES, it was Adam's win, 460-432. I see Adam's TUTELAR and GALORES.
AT the nearby Evans Clinchy (Boston, MA) vs. John OLaughlin (San Francisco, CA) table, I see INSTATE, AIRDROME, TRIBADiC, and SPrAYED. I missed the endgame (and probably plays, too), but I learn that Evans won, 414-404. I do not want to jinx Evans, at all, but that is 7 wins in a row for the Boston-based writer!
Dave Wiegand (Portland, OR) vs. Rob Robinsky (Saint Louis Park, MN). Dave's TOUSTIE#, HUMITES#, and DEVICES mingle with Rob's LATENESS and LEPROSY. But it all started to sound like a song Rob had heard before when Dave bingoed out with LEARNING. I heard this is the third time in a row that Dave has done this to Rob. It does lose its charm after awhile! A 505-425 win for Dave.
David Koenig (Falls Church, VA) vs. Geoff Thevenot (Austin, TX): EGALITES, STAPEDES, TESTUDOS, VUTTY#, and PREIF# on in-progress board.
Evan Berofsky (Oxford, MI) vs. Nicky Huitson (United Kingdom): NACRITE#, TOXEMIA, and FILTERS on board.
Walker Willingham (Bainbridge Island, WA) vs. Caroline Polak Scowcroft (Australia): DEMERALS* (but maybe it was DEMERSAL, I was looking upside down), TONGUEs, FrONTING, DHOBIS, GRUME, JAI#, and GILDS on the board.
Nuala O'Rourke (Northern Ireland) and Warodom Geamsakul (Japan) just finish as I walk up. He points to her great play of STROnTIA. I see her MIGRATES (which she later front hooks to EMIGRATES), and ORThIAN#. I glance at her pretty, colored scoresheet and see that she won, 547-266.
I see Conrad Bassett-Bouchard (Piedmont, CA) is now wearing his pretty pink dress shirt and he confesses that he wore it to a lunch meeting and is too lazy to take it off. It looks great, I hope he doesn't! He is playing Jesse Day (Berkeley, CA) this round and they are in a tense-ish endgame. Conrad had more than 6 minutes, Jesse has less than 1 minute and he's busy tracking like crazy while Conrad's clock runs. I see FAILURES through the E (blank L), ATRAZINE, IMPENDS, GLEETIER, and cORSLET. Jesse won, 450-334.
Robin Pollock Daniel (Toronto ON) played Joey Mallick (Cape Elizabeth, ME) this round. I get brought over to see Joey's iMMORTAL extended on his next turn to iMMORTALIZE for a bunch of points. Robin had played INFIX at one point and let us know she was holding out hope for INFIXATIONS to the triple. :) I see Robin's pROTEST for 81 and ROMANTIC for 74, but it wasn't enough—her last two racks started with IIOOO. Joey won by 21 points.
From the overturned wins department. Matt Canik (Austin, TX), looking sharp in a hot pink T-shirt that matched his scoresheet book cover, won a game this morning by 1. A recount had him lose by 3. Then this afternoon, he again won a game by 1 and a recount had him lose by 1. I suggest he stop recounting.
Nigel Peltier (Portland, OR) s. Jim Kramer (Roseville, MN). I see BEELINES, RAILERS, EMENDATES, PRIMERO, and VIRTUES. It looked like a 393-395 tie on Nigel's scoresheet. Then Jim put down three 1-point tiles, ANT. A +6 went onto Nigel's column. A 401-395 win for Nigel. An ouch for Jim.
Roger Cullman (Toronto ON) called me over to his game with Daniel Blake (Guilderland, NY). Despite Roger's WORKSITE* for 67 and IGNORER/LI/AG/UN/DO for 90 (after which he was up by 20), he managed to lose to Daniel's SIX bingos: OPIOIDS for 72, APpLAUDS for 83, DEAERATE for 63 (drew a challenge), AMBIENT for 82, SCHOONER for 78, and NAZIfIED for 88. 545-348, Daniel's win.
Kristiina Overton (Maxville ON) is looking tanned and healthy today. She smiles and tells me that three months in Florida will do that for a person!