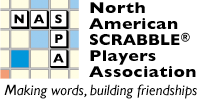 Go to: Early Bird Commentary Games Players Photos Standings Prizes
... tsh Reports ( A B C D CSW Youth )
... Scoreboard ( A B C D CSW Youth )
Back to NSC 2014 Live Coverage
NSC 2014 Commentary: Round 20
[ ]
Go to: Before the Tournament, Round 1, Round 2, Round 3, Round 4, Round 5, Round 6, Round 7, Round 8, Round 9, Round 10, Round 11, Round 12, Round 13, Round 14, Round 15, Round 16, Round 17, Round 18, Round 19, Round 20, Round 21, Round 22, Round 23, Round 24, Round 26, Round 27, Round 28, Round 29, Round 30, Round 31, After the Tournament.
---
Round 20
Jeff Cook (Keyser, WV) stopped by to tell me about a couple of games he's played so far. In round 9, he played Rahn McKeown (Cary, NC) and the word ZIBELINE was played in their game. They both wondered if it took an S. They discovered, after the game, that it did. So, fast forward to this to this round and Jeff is playing Amalan Iyengar (Chapel Hill, NC). Lo and behold, what happens again? ZEbELINE is played in this game, but Jeff knows and puts an S on it! Jeff won, 439-411. He said he owed Rahn a beer for this. And I laughed because this is exactly what Chris Schneider (Chicago, IL) said yesterday after round 14 when he got to play ZIBELINE in his game. Rahn is going to have a lot of free beer if this keeps up!
Jim Pate (Birmingham, AL) vs. Ted Rosen (Rochester, NY). I get called over to see that Jim was forced to challenge Ted's play of TSAREVNA because it blocked his only hope of catching up: a bingo of his own that fit in that space. So, Jim, knowing there were good tiles in the bag yet, played off some of his nice tiles by making a dumping play of SOURCE in a safe place on the board in the hopes of better tiles to come. He was not rewarded for the risk. The opposite, actually. Ted got those nice tiles and bingoed out with REsILED and stuck Jim with VENKIMR. Ted's big win, 462-261.
John Merlau (Kansas City, MO) played Alan Stern (Shadow Hills, CA) this round and I get called to their board. Alan was proud of his 9: GRENADIER through the EN for a 94-point double-double. He also played SOLARISE and InERTIAL. John got down PUNNIEST and SLICiNG. Despite getting stuck with QAT on his rack, Alan won, 463-419. He is proud of only getting stuck with those tiles as his last draw from the bag was VWQ. It could have been worse.
Bradley Robbins (Windham, NH) vs. Travis Carlson (Tucson, AZ). My eye is drawn to UNDErFIT* and it is Bradley's phony. He also got down DECANTER. Travis played AREOLATE (blank L) and RETILED. Brad's win, 475-411. He's now 14-6 with only one loss today so far!
Matthew O'Connor (DeWitt, NY) slips by and gives me a morsel. He played Richard Spence (Tucson, AZ) this round and lost, 325-438. He thinks that incorrectly making two challenges of DATEABLE and URALITIC had something to do with it.
Kevin Bowerman (Chapel Hill, NC) vs. Siddharth Murali (Collierville, TN). Words spied: GRODIEST, DIaPERS, and rEFRACTS.
Rahn McKeown (Cary, NC) is looking quite good today in a striped button down that has panels sewn at a slight angle, so the stripes aren't just straight up and down or across. And there is embroidery on the cuffs and collars. And, best of all, he's wearing cufflinks. I remark on this and he says it's his "going out" shirt. Then we talk SCRABBLE. Of his round 20 game, a highlight was his opponent's TIPSTERS. Way to go Anita Rackham (Austin QC). He won, 389-364, but more impressively, this is his 12th win IN A ROW!
It was so great the first time the pairing gods gave Jeff Fiszbein (South Lyon, MI) Nigel Richards (Malaysia) two games in a row. Jeff won last round, 436-341, and this round it was Nigel's turn to win, 381-375. I see FREqUENT and MEDUSAN on their board.
Kolton Koehler (Portland, OR) vs. Jim Kramer (Roseville, MN): PRECRASH, TAWPIES, and sENaTE are on their in-progress board.
Mack Meller (Bedford, NY) walks by me as I move toward his board. He said, "I lost to Conrad Bassett-Bouchard (Piedmont, CA), nothing special." He's got the lingo!
"The nicest guy." This is how Doug Critchlow (Columbus, OH) describes his opponent this round, Roderick McDonald (Long Sault ON). I see Rod's two bingos: REpLETED# and DINGIES. Of the Collins-only word, Doug admitted to not liking it, but he took it. Roderick may not know he has a calling for Collins! Doug played PADDLEs and LATEENS and won the game, 446-339.
Table 1 in division 3 featured Daiva Markelis (Charleston, IL) vs. Greg Feldkamp (Cleveland Heights, OH) I see SALUTeR, TREBLED, RePAIRED, MARINES, and GAITERS. They were just commencing a recount, so I left them to it. It was a win for Greg, 411-401.
A fantastic wrenching of a win from the jaws of defeat! John OLaughlin (San Francisco, CA) was going to lose or at least Robert Linn (Potomac, MD) thought so. In the very endgame, John found a spot to play EA#. It just so happened to nestle in-between hERETRIX and the letter S, for hERETRIXES for 36 points, which game him the win, 419-417. Ahem.
Rob Robinsky (Saint Louis Park, MN) played Adam Logan (Ottawa ON) at board 1 in Collins. I see Adam's pIrOGUE, ARANEIDS, and TONGMEN (a 40-point, nonbingo double-double). Rob got down WEEDIER. Adam had all consonants at the end and Rob made great plays, but Adam still eked out the win, 395-382.