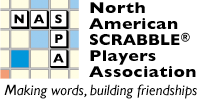 Go to: Early Bird Commentary Games Players Photos Standings Prizes
... tsh Reports ( A B C D CSW Youth )
... Scoreboard ( A B C D CSW Youth )
Back to NSC 2014 Live Coverage
NSC 2014 Commentary: Round 15
[ ]
Go to: Before the Tournament, Round 1, Round 2, Round 3, Round 4, Round 5, Round 6, Round 7, Round 8, Round 9, Round 10, Round 11, Round 12, Round 13, Round 14, Round 15, Round 16, Round 17, Round 18, Round 19, Round 20, Round 21, Round 22, Round 23, Round 24, Round 26, Round 27, Round 28, Round 29, Round 30, Round 31, After the Tournament.
---
Round 15
It is Orange Monday! Jason Keller (Highland Park, NJ) is here with two orange vuvuzuelas, orange gear bag, orange clothes, orange shoes, and even orange undergarments! I am waiting to see as other players file into the room, if the orange fever is catching!
Youth SCRABBLE is done and the prizes are handed out. Dustin Brown & Jonas Brown came in first, Max Lewin & Wilson Pegram came in second, Charlie Lewin & Jamie Chew took third, and fourth place was Max Lewin & Wilson Pegram. The winners received trophies and second place received two copies of hardbound OSPD Vs.
The winners of the Trivia show on Saturday night: David Engelhardt (Baltimore, MD), Linda Oliva (Lisbon, MD), Daniel Milton (Vienna, VA), Michael Ecsedy (Brookfield, CT), Linda Wancel (Flushing, NY), Marty Fialkow (Moorestown, NJ), and Jack Eichenbaum (Flushing, NY)!
Lois Lockhart (Newark, NJ) has not been to an NSC in 10 years, and she is very happy to be here this year. I saw her walking around with her self-published book Wordmonics. She is adorned in one of the special dark purple/neon pink buffalo T-shirts.
Jesse Matthews (Kelowna BC) arrives with banana in hand and makes his way to the annotated board 1. Opponent Joel Sherman (Bronx, NY) is sitting there working on his today's newspaper Sudoku puzzle. Conrad Bassett-Bouchard (Piedmont, CA) comes in with a pink dress shirt worn around his neck like a scarf.
I turn around from my desk on the command central pod and see Susan Blanchard (Unknown city, WI) doing her Rosie the Riveter imitation. She laughs and assures me it is a "Navy wife" thing. She has her timer completely open, a screwdriver in her hands, parts everywhere, and loose screws on the table. It sounds like failing battery surgery. Morning announcements are commencing and I dash off.
After Alan Stern (Shadow Hills, CA) made welcoming comments this morning, Merriam-Wester's John Morse took to the microphone and greeted us all with a little history of the OPSD. This update is the largest to date. He thanked the dictionary committee members by name and those that were here stood and received an applause. Check them all out at http://www.scrabbleplayers.org/w/Dictionary_Committee. Merriam-Webster put out kooozies for each player and worker this morning. It features one of our upcoming new words in SCRABBLE tiles along one side: CHILLAX*. Wait, a word in our new dictionary that isn't already in Collins? We are so cutting edge!
Michael Hill, Hasbro Senior Global Brand Development Manager, made the rounds this morning with John Chew. He met the staff and was reacquainted with some of us (he was also at the School SCRABBLE Championships at Hasbro headquarters last spring).
Matthew Bernardina (Durham, NC) played John OLaughlin (San Francisco, CA) this round at Collins table 2. I see GRAVURES, BILOBATE, and COCAINs on their board. Check out this Collins three: GJU#! I caught them as they were just wrapping up and Matthew said "excellent game," and they shook hands. As Martha would say: good sportsmanship is a good thing. Matthew's win, 435-417.
Adam Logan (Ottawa ON) continues to storm and dominate Collins, taking down Robert Linn (Potomac, MD) this round, 460-396. I see REINDICTS, TENNISTS, and FAINTERs.
Rahn McKeown (Cary, NC) played Gary Skowronski (Silver Spring, MD) at table 1 in division 2. I see NOUGATs, ASTRIDE, and REtSINA. Rahn's win.
LEOTArD was an opening play by Kevin Bowerman (Chapel Hill, NC) in his game with Connie Creed (Philadelphia, PA). I see his rETARDER played from the blank R.
On a Conrad Bassett-Bouchard (Piedmont, CA) vs. Will Anderson (Croton, NY) in-progress board: INERRANT, SQUIRTER, REFLATeD, LOTIONs, and CONGEALED.
A barn burner took place at division 1's 3rd table. Leesa Berahovich (Berkeley, CA) vs. Kolton Koehler (Portland, OR), who was clad in a pink hoodie with a gold, yellow, and navy headband (he is one sporting dude!). I see her bingo bango: MISTAKES for 86 sand BOLsHIE for 81, then his bingo bango: ENROLLS for 71 and POINTED for 86. Kolton also played ORGANISE for 80 and CATNAPER for 66. Leesa played FIELDED (blank L). Her win, 470-430. I wander over to Jesse Day (Berkeley, CA) and tell him about her great game and he says he is not surprised one bit. She lives about two blocks away from him and they get to play a lot. He's seen her in action. Leesa has game! Nice to see a woman up there with the guys!
Thank you. Thank you. Thank you. Identical twins Thomas Reinke (Middleton, WI) and Charles Reinke (Middleton, WI) have finally done something to help us differentiate them. Thomas has a well-coifed goatee! So, despite the fact that they were similar tie dye shirts and have the same hair style, we now can tell them apart. :) Thomas Reinke (Middleton, WI) (and I know for sure now!) played Mack Meller (Bedford, NY) at table 4 in div 1. I see Thomas' EUdEMON for 78, DIVALENT for 66, and WITNESS for 87. At the time I check, Mack has played SUBDWARf for 76. In the end, it was Mack's win, 437-422.
Ida Scaglione (Tonawanda, NY) vs. Julia Bogle (Indianapolis, IN) at table 1 in division 3. I see Ida's TRIUNeS and fun extension of CANDID to CANDIDA!
Dan Lichtblau (Los Angeles, CA) squares off against Timothy Schwab (Cheektowaga, NY) at table 1 in division 4. They are both clad in those purple buffalo shirts. Reading Dan's scoresheet, I see Tim's UNCENTER and Dan's EtHIONS and SEDAtING through the N for 70.
Chloe Fatsis (Washington, DC) vs. Doug Critchlow (Columbus, OH) and the game is just finishing up. I hear Doug say he just can't beat the young ones. Chloe got down GODETIA and INSNARE and Doug found ALAsTOR. Her win, 426-382. All business, she asks him to sign the slip so she can hand it in promptly. She returns to discuss the game, her silver C tile necklace sparkling around her neck.
Matthew O'Connor (DeWitt, NY) tells me about his 6-bingo game this round against Matt Canik (Austin, TX) who I am assured is a great player. Matthew speaks kindly of his opponents. ISATINE, GEMATRIA, and KEELSON were Matthew's and ALIENER, UNMITRED through the N, and JAUNTED for 110. They both chickened out on GEMATRIAS, but it is good. Matthew's win by 3.
Seth Lipkin (Hopkinton, MA) vs. Eric Harshbarger (Auburn, AL): I see ETERNAL, REACHES, and STROBILE on the board, but it isn't this that is the game's story. In the endgame, Eric played QUEEN to draw the last five tiles out of the bag: ZXS??. He then went on to play the gorgeous hOaX down the triple, also creating TWO/AHa/WAX for 77 points. Oh, and he got the win, too, 440-378. Seth could only congratulate him on his great drawing fortune. :)
Karen Richards (Australia) is rocking out the style today. She has on a long, light coat/wrap/jacket with about 10 inches of black fringe on the bottom. It is so catchy, she looks like a backup singer for Cher! Eyecatching for sure! I want to talk fashion, she wants to talk Youth SCRABBLE and so she wins. She wants to bring a few youth players with her next year to this event. She sees no reason whatsoever that Collins can't be at least 100 players next year. I am all for more overseas bodies so I encourage her on in this mission. But, only if she wears that coat next year.
Scott Appel (Elkins Park, PA) taught his roommate a front hook for HANG last night: BHANG. So, today, Ben has BHANG, but he plays HANG, keeping the B for later to play down the triple lane, and don't you know, he does? BRAW/BANG for a bunch of points, but he didn't even draw a challenge! After the game, Bill Ewing (Missoula, MT) admits he wasn't sure about it, but chose not to challenge. Ben says, "smart guy, good player." Ben's win.