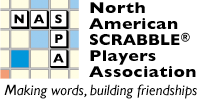 June 21–24, 2013
Go to: Commentary Games Players Standings Photos TSH Reports Scoreboard Prizes
Back to CNSC 2013 Live Coverage
Commentary: Round 14
[ ]
Go to: Before the Tournament, Round 1, Round 2, Round 3, Round 4, Round 5, Round 6, Round 7, Round 8, Round 9, Round 10, Round 11, Round 12, Round 13, Round 14, Round 15, Round 16, Round 17, Round 18, Award Ceremony, Final Round 1, Final Round 2, Final Round 3, After the Tournament.
---
Round 14
Eric Tran (Calgary AB) vs. Kristiina Overton (Maxville ON): CORDINGs, RELABEL (nonbingo), SNEERInG, and LESBIAN. This latter bingo was by Kristina. At one point Mad asked me to call a director. I decided now was not the time to tell her SHE was the director and I got John. Ah, Mad was annotating at the next game, I get it. Well, somehow Eric or Kristina managed to dump some tiles from the bag onto the floor and they were unsure is they got them all. One of them counted the tiles on the board, John Chew counted the tiles in the bag, and then everyone was happy that the tiles were all accounted for. The life of a director : ever glamorous. Eric won this game.
Chris Williams (Vancouver BC) vs. James Leong (Vancouver BC): I see OBeLISE (Chris is convinced this is Collins, he is wrong), DEFRAYERS, GOITERS, and VIROID. One of the last plays was KREMlIN (blank L) along the middle top triple lane.
John Stardom (Ottawa ON) vs. Gabriel Gauthier-Shalom (Montreal QC). Let's just say that the wind has been removed from Gabriel's sails. The tile gods are just after him today. Robin Pollock Daniel (Toronto ON) feels the very same way about her games today. But back to the men. I see CHLORINE, EOBIONT (nonbingo, but fun!), NEONATES, MEANEST, NICTATED, UNSALTED, and EXUVIAE. They are tense in an endgame thing and all I can tell is John won.
Jason Broersma (Caledon ON) is rewarded for exchanging on his opening rack. His first two plays are: EASIEST for 74 and BINDERs for 72. Dean Porporo (Nepean ON) tries his own bingo bang later with RATTANS for 83 and ENFLATER* for 86. I watch Jason hold, then pause the clock and the short field trip to the challenge machine. Off it comes for further reflection. I see Jason's StIGMATA through the T for 64.
Christopher Sykes (Cambridge ON) has removed his hoodie and after his defeat of Robin Pollock Daniel (Toronto ON) this round. His head is now in his hands and he is bent over. I ask if he has a headache and he nods. I offer acetaminophen (or paracetamol#, which is easier to spell, he says!) and he says what he really needs is sleep. I haven't found a container of that quiet yet. Robin says, "He has Advil, I already bummed some from him. He's got painkillers." I see WRINKLES, EDITIONS, NATTIER, and ERINGOES on their board. Robin is a bit down. "Every time I get into contention, this happens...." I nod, she's right, I've seen it.
Lunch was very good and the players gathered in groups to eat. I spied of Torontonians eating with folks from Montreal and Gabriel Gauthier-Shalom (Montreal QC) pointed out that he's both. From Montreal, he studies in Waterloo now. We all teased Sary Karanofsky (Cote Saint-Luc QC) about celebrating her anniversary at the CNSC and she said her husband was out on a boat enjoying himself, too!
Lisa Kessler and Chuck Abbate (Quispamsis NB) sat opposite the event's youngsters: Morris Greenberg (Brookline, MA), Jackson Smylie (Toronto ON), and Joshua Castellano (Vienna, VA). Their one couch of youth wasn't even 60 years old! Morris is now studying math and some scary "equations" course at Tufts. I asked if he wanted to be the next Alan Greenspan. He laughed it off, but I'm not sure he said no. Turns out Chuck studied veterinary science at Tufts. Small world.
The players wanted to move along so Mad walked through the room and gave the 5-minute warning to game 15, then the 1-minute warning. When she speaks, people hop! Everyone made it into the room on time!
Chris Lipe writes:
Okay, everyone, please pay attention, stop your clocks, the tournament is over. The Eighth Canadian National Volost Championship has come to an end, and the winner is Roger Cullman (Toronto ON), who has played the word VOLOST against Sary Karanofsky (Cote Saint-Luc QC) for 35 points.
Sometimes you can learn the words by studying, and sometimes you learn them the hard way. It just cost Sue Tremblay (Carlsbad Springs ON) a turn in her game against Yvonne Lobo (Mississauga ON) to find out that REPICKLE* is not a word.
Marilyn Wilkins (Richmond BC) has jumped on the nine-timer train -- Andy Saunders (Guelph ON) played BANG putting the G in third position, and Marilyn said, "BANG!" and hit him with ARGUABLE for 158. Note: I'm just assuming she said, "Bang!"
In an effort to be nicer in my commentary and not put people on the spot as much, here is a list of phonies I saw on the board this round, without assigning responsibility to them: BULLAS*, SCORIAS*, PLICATES#, SEJEANTY*, RONDEAUS*
Tony Leah (Ajax ON) had a nice game against Morris Greenberg (Brookline, MA) -- put up 561 with a bunch of bingoes including the nice ENDOCARP into the P. Morris had INQUEST for a hefty nonbingo 2x2.
Okay, I feel personally responsible for this one -- I just saw Dean Porporo (Nepean ON) and Jason Broersma (Caledon ON) come back from the challenge computer and Dean start to pick up UNDEALT#. Last night when we were out, we were going through some words in my cardbox, and ADELNTU came up, and, well, my cardbox does not use # marks to differentiate what's OWL and what's not. So, sorry about that, Dean. This one was probably my bad.
Geoffrey Newman (Brampton ON) calls me over to post-mortem his game with Bernard Gotlieb (Montréal QC). Geoff is down a bingo with three in the bag holding AGNORS? on a board that Bernie has neatly sewn up. The unseen pool is: EEGILLRTUV. The first thought would be a two-tile play opening a line, but the options for that would be easy to shut. Geoff dropped one tile playing IN at 11M, holding S? with no N's unseen. This was a great play and the bag was very generous -- not only did he pick an I out of the pool, but VG was left in the bag, robbing Bernie of (R)EG or (R)EV at 12M, which were the most effective blocks. Bernie played T(R)UE 12L to empty, and Geoff hit ORGANISE and out to win 420-393. As the tiles fell, if Bernie had played off one, then after bingoing, Geoff would have been stuck with whichever of the G or V that Bernie had left him; had Geoff drawn the V, Bernie's actual play blocks VIRAGOS and wins; had Geoff drawn the G; there's no TWL seven for Geoff to play. All in all an interesting and complicated endgame, and a good win for Geoff.
And now lunch is here, so I can get myself a sandwich, and Gabriel Gauthier-Shalom (Montreal QC) can get a bready talisman to take a one big bite out of and then carry around with him for the afternoon games.