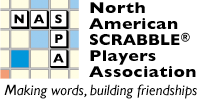 June 21, 2013
Go to: Commentary Games Players Standings Photos TSH Reports Scoreboard Prizes
Back to CNSC 2013 EB Live Coverage
Commentary: Round 2
[ ]
Go to: Before the Tournament, Round 1, Round 2, Round 3, Round 4, Round 5, Round 6, Round 7, Award Ceremony.
---
Round 2
Tony Leah (Ajax ON) vs. Caroline Polak Scowcroft (Australia). Their game is nearly over and I see her PUREEING and his dIARIST. What is most striking are the blank spots on her side of the scoresheet. This Collins player, Caroline, is playing in a TWL event with Tony, someone who studies and keeps the dictionaries separate in his mind. I point this out to her as an easy explanation for his 402-293 win against her and Tony pipes up, "Hey! I got caught playing JA# not once, but TWICE in my last TWL event!" He caught her trying to play UVA#, WIDGY#, and an OUT bingo that I couldn't quite read. She tried to explain WIDGY to me and then said, "You're an American, it came from there, you should know it!" I am a disappointment in cultural familiarity.
Fern Lindzon (Toronto ON) continues her winning ways this round against Josh Greenway (Toronto ON). I see his AIRIESt and her SOLDiER, FAINEST, GENITOR, and the fun opening play of OPENEST! She admits to her luck so far!
I see a Christopher Sykes (Cambridge ON) vs. Alex Rodriguez (NYC, NY) board. Alex got down ASCRIBES for 92 and Chris played STAVING for 82. Chris' win, 383-342.
Mad continues to open more and more boxes and find more event materials. The latest find has been a hoot! Hasbro Canada hired a firm to make tile racks with the players' names on them. John supplied the custom-made wooden NASPA racks (the long ones) and the racks came back in but not quite in the way John expected. He thought the names would be on the backs of the racks (so that opponents could see the name), but they came back with the names resting and glued INSIDE the racks. While these look great, they make the racks unusable during play! Also, some of the wooden tiles used are from French SCRABBLE sets, so the values of the tiles are different. The Y on the rack for Tony Leah (Ajax ON) is worth 10 points! If only! John smartly got these racks for everyone playing in the ME and working, but me; and even better brought along enough extra NASPA racks for people to actually play on. Oh well; I'll have to just make my own one day. Time to hunt for a French SCRABBLE set.